Welcome to Durham Class
St Elizabeth's – Meet the Teacher Presentation – Year 2 – September 2021
Durham Class Newsletters
Advent (1) Newsletter Year 2 – 2021.pdf
In Year 2, Our Franciscan Value is Faith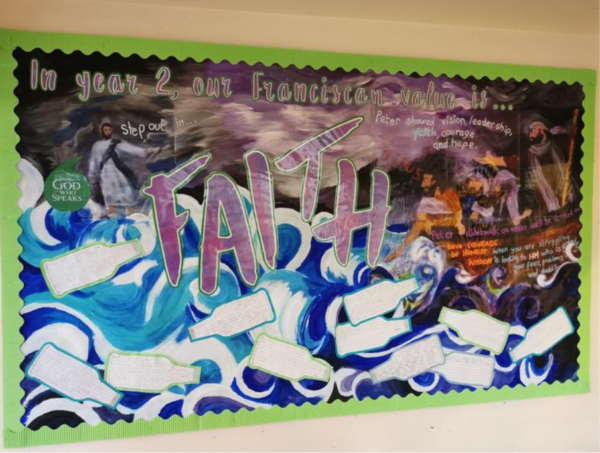 As a school, we have been thinking about our Franciscan heritage and have decided to introduce seven values – based on the Franciscan values – to underpin all that we do at St Elizabeth's. The seven values are: Joy, Forgiveness, Faith, Respect, Service, Peace and Stewardship. We will all strive to live out these values on a daily basis but each class will pay close attention to their own value. In Year 2, our value is faith. We tried to think of Bible stories about faith and decided upon the story of Jesus walking on water (Matthew 14: 22=23). We retold the story and created our beautiful display in the school hall.
Our RE Knowledge Organisers
Year 2 – Topic 1 – Beginnings – Knowledge Organiser.pdf
Year 2 – Signs and Symbols – Knowledge Organiser.pdf
Year 2 – Preparations – Knowledge Organiser.pdf
Reading at Home
Helping your Child to Read – Handout.pdf
How to Access Books During Lockdown
How to access library books during lockdown.pdf
St Elizabeth's Hub
Purple Mash Login Page
My Book Blog School Login Page
To provide a high quality Christian education for all children enabling them to achieve their full potential in a safe and caring environment.